Teen Adventure Program mountain biking camp
June 25, 2012
By David Nguyen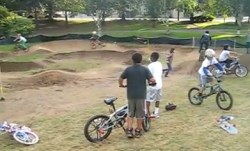 Portland Parks & Recreation's Teen Nature Program is teaming up with Northwest Trail Alliance to hold a 4-day mountain biking camp, July 9 - 12.
The camp will help build bike handling skills, and will include stewardship components on responsible trail riding, trail maintenance, and construction and environmental education.
Participating teens will also get to work with a City contractor who is building new trails, and will learn about sustainable trail design and construction.
Some of the planned activities include visits to the new pumptrack at Ventura Park, and the trails at Powell Butte, Cascade Locks, and Sandy Ridge. A camp after-party is planned in the new indoor bike park, The Lumberyard.
Bikes will be available for participants to use, or bring your own! Bikes must be trail worthy and preferably have hand brakes. Helmets are required, and will be provided to those who need them.
The 4-day camp costs $200. Portland Parks & Recreation is currently working on a scholarship option. Click here to register.
Photo credit: NW Trail Alliance