Walktober's great weekend walks
Oct 25, 2012 at 10:09 AM
22 Comments
Walktober
- Willamette Pedestrian Coalition's month-long celebration of walking - offers a rich and diverse calendar of walking events over the next few days. Here are some of the highlights, see the
Walktober calendar
for a full listing of events:

Streetcar Exhibit Walk
Friday, October 26
11:45 a.m. - 1:15 p.m.
Meet at Streetcar Stop on NE 7th between Multnomah and Holladay
"First 20 registrants only. We'll be catching the streetcar to the Architectural Heritage Center for a viewing of their new exhibit, 'Streetcars Build a City.' Price of admission and streetcar fare compliments of the TMA. After a mini-tour of a nearby historical building, we'll walk back to the Lloyd District."
Council Crest Climb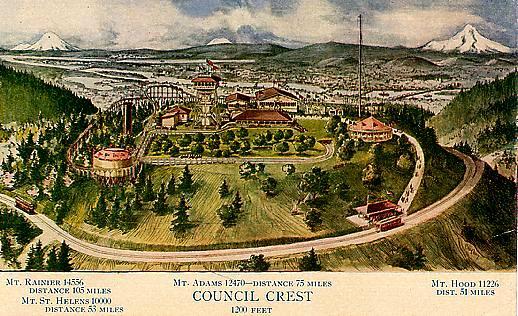 Friday, October 26
12:30 p.m .- 3:30 p.m. (Meet at 12:30 p.m., leave at 1:00 p.m.. Event may last longer than three hours.)
*Bring money for transit fare*
"Take an 'urban hike' up to Council Crest, highest point in the city (1,070 feet!) Use secret stairways and paths and not-so-secret sidewalks to get to the top while learning about the interesting history of the area (note: no actual rock-type-climbing involved). There will be great views of the city along the way, and the top you may be able to peep four different volcanoes! After ascending to the Crest, we'll then descend via the Marquam Trail to OHSU where we'll hop on the Tram to the Waterfront. Possible exploration of South Waterfront if time/interest allows.

We'll also stop at a market along the way for snacks.

Please wear some good walkin'/hikin' shoes, as the walk surfaces will be a mix of dirt and paved, with some stairs thrown in.

Please note: Route will end in South Waterfront where folks can take the Streetcar back into downtown. Bring appropriate transit fare ($2.50 for TriMet, $1 for streetcar only.)"
Vamanos! Walk in Cornelius
Saturday, October 27
10:00am
Meet at: Centro Cultural, 1110 N Adair Street, Cornelius
"Walk through Cornelius while learning about the history of the town. This walk starts and ends at the Centro Cultural and takes us through Free Orchard Park and by some of the town's historical buildings.
Spanish: "Camine por Cornelius y aprenda acerca de la historia de este pueblo. Esta caminata comienza y termina en el Centro Cultural y pasa por el parque Free Orchard y por algunos edificios históricos."