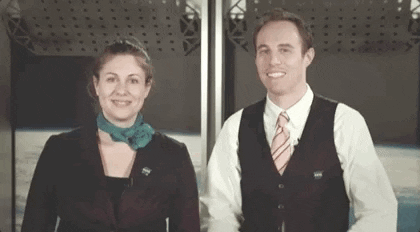 Have you heard? Apparently, there's a solar eclipse happening on Monday.
Some call it the apocalypse. Others are naming their babies after it. When a total solar eclipse happened in 2015, Zayne Malik left One Direction. We're not saying that's the entire cause of One Direction's demise (only 80–90 percent, we think), but it is still very important that you prepare yourself for what madness Monday may bring.
From traffic jams to gas shortages to calling in the Oregon National Guard, the amount of news coverage of the upcoming celestial event has overshadowed (heh, get it?) any other news story in the last several weeks.
But there's a few more things we'd like to cram into your brain about this otherworldly event.
1. The Water Bureau is Pitching In
When the media calls, it's all hands on deck. Monday's eclipse will bring with it a flurry of news requests, service coordination needs, and skilled emergency management experts on the ground to ensure everyone has the chance to witness Monday's event safely. Plus, the eclipse event is the perfect way for Oregon agencies to come together to test emergency preparedness plans.
In the spirit of coordinating resources between local and state agencies, the Water Bureau's Public Information Officer Jaymee Cuti will be in Salem helping local and state agencies monitor eclipse traffic, distribute information to the media and local news agencies, and help things go smoothly.
Thanks, Jaymee!
2. Don't Drive the Butte
Staying in town on Monday? Looking for a good viewing point to see the eclipse?
Powell Butte Nature Park is located in East Portland along Powell Blvd. and plays an important part of Portland's water system. It also may seem like a great place to catch a view of Monday's event.
To reduce traffic congestion in the area, the Water Bureau will be closing the vehicle access gates to the Butte on Sunday night and will reopen at 2 p.m. on Monday. Walk to the Butte, just don't drive! And if you're walking, please be respectful of the residents that live nearby.
Take what you bring. Stay on marked trails. And don't forget your non-recalled eclipse glasses. Just take them with you when you leave.
3. Traveling for the Eclipse? Bring Water!
If you're planning on road-tripping for the solar eclipse, don't forget to pack extra supplies. Many small towns will be overrun with eclipse event goers, so it makes sense that many shops will run out of supplies sooner than you can ask, "Why's water $5 a bottle?"
Do yourself a favor. Pack supplies like food, water, and first-aid kits.
And don't forget water. Bring lots of water. Because nobody needs to pay $5 per bottle when – thanks to Bull Run – we've got the good stuff for just under 2 cents a gallon.
4. Arrive Early, Stay Put, Leave Late
Oregon will be the first state to view the solar eclipse as it crosses the United States. Learn how to prepare yourself, and what you can expect, with these resources from City of Portland agencies.